Digital 3D general plan of the enterprise
The digital 3D general plan of the enterprise is a three–dimensional model of a real enterprise created on the basis of laser scanning and including all its objects and communications with reference to the terrain.
WHY DO I NEED a digital 3D General Plan of the enterprise?
The digital 3D master plan allows you to significantly increase the visibility of information about the enterprise and increase the efficiency of its use not only by specialists in general planning, but also by managers and other employees of the enterprise. The system contributes to the adoption of optimal management decisions, for example, on reconstruction and new construction.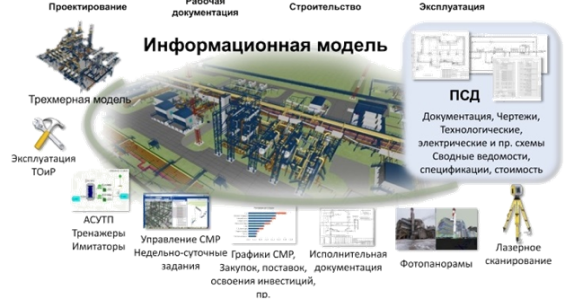 Information model – the basis of information support of the asset life cycle
Several generations of specialists participate in the life cycle of the enterprise, and therefore there is a high percentage of knowledge/information loss.
Filling the 3D model with information about the characteristics of the object:
name,
type,
model,
year of manufacture,
year of installation,
estimated service life,
technical parameters, etc.